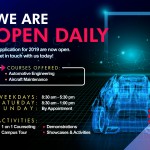 Join us on our OPEN DAY!
Discover what DESPARK can offer you!
We hold a number of open days to give you the chance to enjoy our 1 to 1 interview counselling session, and experience campus tour in any Despark's campus.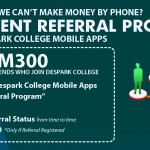 Student Referral Program
Earn Extra Pocket Money by Simply Using Despark Mobile Apps!
Want to make extra money by using phone like usual? Join Despark's Student Referral Program now!
Simple Steps:
1. Download Despark College's mobile application on App Store or Play Store
2. Register as member
3. Select "Referral Program" at the menu bar